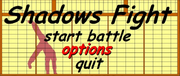 Shadow Fight 0 was a game created by Evgeniy Dyabin, who was inspired by the Matrix movie. The game was developed in 2001, the player controlled silhouettes much like the two games that followed, and allowed players to fight bare-handed. It is the predecessor of Shadow Fight 1.
Ad blocker interference detected!
Wikia is a free-to-use site that makes money from advertising. We have a modified experience for viewers using ad blockers

Wikia is not accessible if you've made further modifications. Remove the custom ad blocker rule(s) and the page will load as expected.