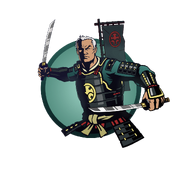 Major is the third bodyguard of Shogun. He is a high-ranking officer in Shogun's military army. Major wields Wakizashis as his weapons, which functions like swords. Like Captain, he doesn't believe that Shadow is the Prince of Ivory City until Shadow defeat him. After defeated, he informs Shadow about what happened to The Prince and warns him about Shogun.
So, you are the impostor who pretends to be my master! Your deceit insults his memory. For that, you will pay! - Before fighting him
Forgive me for doubting you, my Prince. I fear Shogun's lies have entangled my mind. - After defeated
After your disappearance Shogun claimed you were killed by traitors. He executed these so-called conspirators without a trial, then seized power. But that was only the beginning... - Major reveals what happened
You're a threat to Shogun's power. He will stop at nothing to destroy you if he finds out you're alive. Please, my Prince, leave this city before it's too late!
Major is the first bodyguard to mentions Shogun.
He is the only Shogun's bodyguard that has respect to The Prince.
He is the only bodyguard Shogun doesn't call in his perk of summoning.
Like other bodyguards of Shogun, Major wields unobtainable weapon.
His name is his rank in the army, like all of Shogun's bodyguards.
Ad blocker interference detected!
Wikia is a free-to-use site that makes money from advertising. We have a modified experience for viewers using ad blockers

Wikia is not accessible if you've made further modifications. Remove the custom ad blocker rule(s) and the page will load as expected.