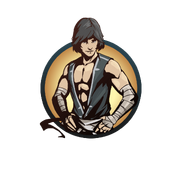 Kid is a special character in Shadow Fight 2. He appears immediately after the player makes their first in-app purchase. He applauds Shadow's fighting skills and asks if he can become an apprentice of Shadow.
The player can choose to either accept or reject his offer.
If player refuses him, he says that he will not give up and will continue his training. He also says that if Shadow changes his mind he will be ready to begin anytime.
If player chooses to accept his offer, he exclaims that he can not wait to begin his training under Shadow.
The player can now tap Kid's icon (in the upper right corner of the screen) while they are in the dojo to fight him. Fights with him have no health or time limit. Perks and special conditions/rules are also disabled. Kid is also not affected by any enchantments. His weapon, ranged weapon and magic are random and selected from one of the items the player has purchased. Fights with Kid can be used as a means of practice or for testing out new weapons or attack combos.
Your fighting style differs from anything I've ever seen! Please, let me be your apprentice! Only you can show me the path to real mastery! - Kid greets the player
I won't give up! I'm going to continue my training. Press  in your dojo in case you ever change your mind. - if the player rejects him
I can hardly wait to begin! Press in your dojo to start practicing. - if the player accepts his offer
Kid can be made immobile by opening the Menu and tapping Settings. After the players exits the Settings tab, Kid will just stand still and not perform any moves.

When in this state, Kid will block every attack. However, he can be thrown easily and is completely vulnerable to ranged weapons and magics.