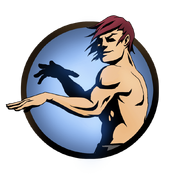 Kenji is the first opponent player faces in Shadow Fight 2.
He has spiky red hair and is well-built. His upper body is naked.
He wields no weapons and was under the the training of Sensei before the latter left to search for the seals with Shadow.
In first three versions of game, when player updates the game, there was a huge XP needed to reach next level and Kenji were appearing and telling player that s/he humiliated Kenji in front of his master, and fight was giving player a huge amount of XP that needed.
Ad blocker interference detected!
Wikia is a free-to-use site that makes money from advertising. We have a modified experience for viewers using ad blockers

Wikia is not accessible if you've made further modifications. Remove the custom ad blocker rule(s) and the page will load as expected.